My Name is Katharina Guillon, I am French and lately I took part in an ESC project at the Deutsches Tanzfilminstitut Bremen.
After a short term ESC project in Poland, I decided to renew the experience, but on a longer term and in a field of work I have always been interested in : audiovisual.
Volunteering, as it might appear at first sight, is not only about social work (helping with children, disabled people, …), but there is also a lot of other kind of help you can provide.
The Deutsches Tanzfilminstitut Bremen is an organization that collects and archives videos of dance performances from all over Germany, but also creates its own video productions, events and lectures.
What I enjoyed most about working in the Institute is the diversity of the tasks : I helped developing their Instagram by creating content (articles, photography, drawings, videos) , took part in organisation and archiving, participated in filming dance performances in all type of environment (theatre, museum, outside), learned how to edit on AVID and Premiere, did digitalization, photographing during events, learned how to organize an interview (filming, light, sound ) …
I couldn't dream about a better ESC experience because it gathered all my interests. I never studied or had professional experience in the audiovisual area, but thanks to this project I had the opportunity to gain knowledge and skills I wouldn't have acquired otherwise.
I also attended two seminars organised by the National Agency where I took part in different workshops on cultural topics, Europe, solidarity … an entire week in a location in the middle of nowhere with all these people from all around the world was one of the best moments of my ESC experience.
Last but not least was the everyday life shared with the other volunteers. We really were an amazing group.  I couldn't have imagined better flatmates. Living with 4 people, was what I had apprehended most, but it turned out to be the best part of my stay here. We shared so much, especially because of the present complicated situation, which implies a lot of time at home. We did art sessions (origami, artistic photography, experimental painting …), cooking all together, celebrating Christmas and birthdays, watching movies, karaoke, bike rides and so much more.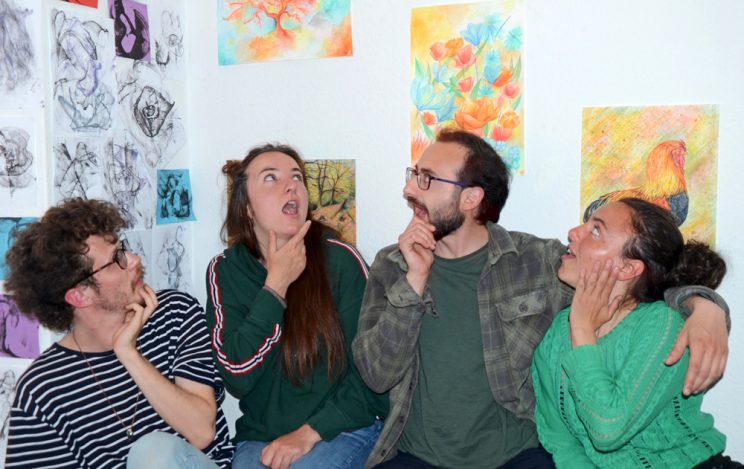 I have met quite a lot of people and places abroad, but I never developed such strong connections to people as here. Sadly, there was less sight-seeing this time,  but a lot more personal development. This experience helped me to reflect a lot about myself and my aspirations in life.
I am thankful for the opportunity to live this experience and meet such amazing people. I think I couldn't have spent the present situation in a better way than here.
So, of course, I recommend ESC to everyone, since it is a great opportunity to learn more about a field of interest, develop skills, meet different people or just to try something new.
Kathy
Kathy was hosted on our project "Visibility on NGOs", financed by the European Solidarity Corps and Jugend für Europa.
Title Image Credits: Kirsten Tiedemann; Other Images: Katharina Guillon