Olá! I am Charlotte, 19 years old and I moved with ESC from the cold Bremen to the equally cold (but sunnier) Beirã at the end of October. Here I live with my roommate in a small house, directly opposite the café "Bernardos" (highly recommended).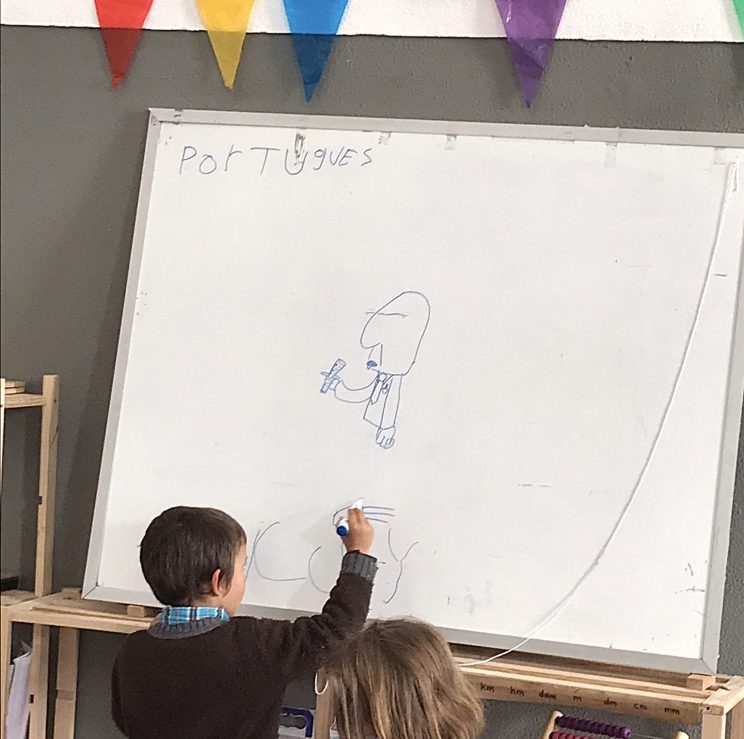 Before writing about my personal experience, let me first give you a brief introduction to the organization and work: Planeta Alecrim is an association that organizes activities for children. One of the activities that I have been supporting for about 3 months is to offer homeschoolers (currently 28 children) a place to study. The "Acompanhantes de aprendizagem", that is, the team and I, accompany and support the learning process. In the meantime, we compile a plan every week, in which the respective tasks of the team are listed. For each lesson, children have the choice between guided lessons, supervised lessons or independent work. In the mornings the children have subjects such as maths, English, history or philosophy (there are always 2 selections per hour for guided lessons) and in the afternoons there are "oficinas" such as sports, art, music, theatre or various workshops. For example, the children could take part in the clown workshop and rehearse their own circus act with a professional clown or learn a well-known dance from Madagascar with my roommate (who grew up in Madagascar). Here, too, there are always 2 choices.
My roommate and I can decide for ourselves which subject and how often we want to give "guided lessons" and which workshops we want to prepare. When we are not doing that, we support others and accompany those who need help. We also help the cook before and after lunch for about 30 minutes.
When I first came to Beirã, the structure was quite different to how it is now and I am sure that at the time of my next report many things will have changed as this project is constantly evolving.
Apart from the work, in the beginning, I was surprised at how small the village is. I knew that Beirã has only about 500 inhabitants, but I kind of expected a supermarket. Consequently, it can get really lonely in winter. This is also because the possibilities of Planeta Alecrim are very limited by Corona and our work is now focused on supporting the Homeschoolers. As volunteers, we don't have a car, which limits our spontaneity. However, there are often opportunities for a ride and especially on weekends, there is always some activity. Luckily for us, two of our work colleagues recently moved to Beirã, with whom we do something every weekend and also often after work.
Since I'm from the city, I had to get used to the fact that I could no longer plan my own ideas of activities the way I wanted to, but instead always depend on someone else. This also means having to come to terms with it when that person spontaneously decides not to go, meaning I couldn't either. However, it has to be said that everyone is aware of our dependence and that they make a real effort, that we are always well. Generally, there is a great awareness of the community here. An important principle of Planeta Alecrim is that everyone in this community has the same rights and that all important decisions are taken together. This means that our meetings often last very long, but also that, for example, I, as a volunteer, can contribute more than expected to the development of this project.
Overall, I am quite satisfied with this experience so far. I can gain a lot from living in such a community and have also noticed that I really enjoy working with children. I also know that life in the village would not be for me in the long run, but maybe that will change if there is a bit more going on in spring/summer;)
I'll update you in my next report!
Charlotte
Charlotte is hosted by Planeta Alecrim on a project financed by the Portuguese National Agency and the European Solidarity Corps.
(Title Image by Maksym Kaharlytskyi on Unsplash.)