Bremen has lots of options for local cafés, restaurants and bakeries that are environmentally-friendly for you to discover. The businesses that feature on the map all follow different sustainable practices: from preparing dishes with regional, organic or seasonal ingredients, to preparing only vegetarian and vegan dishes.
Kaemena Blockland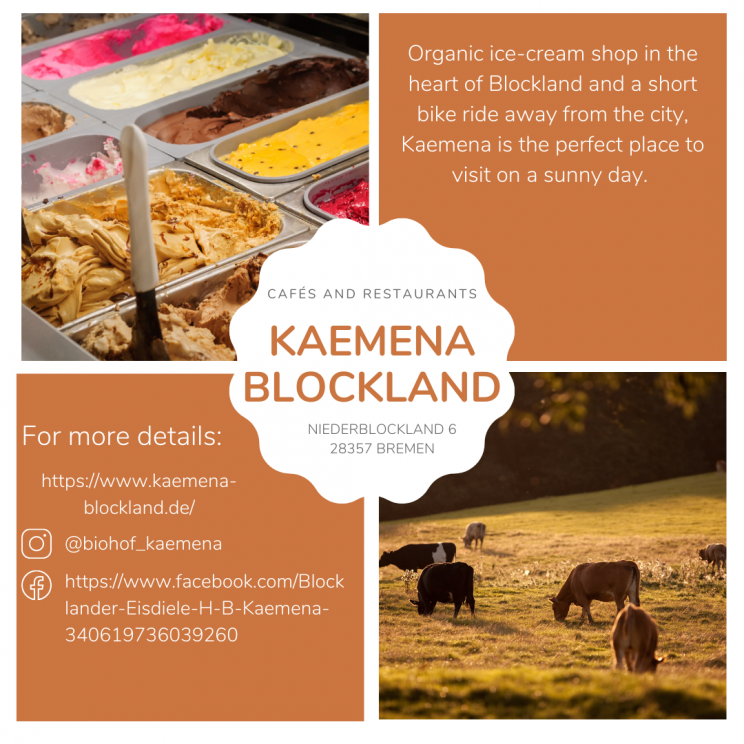 Explore Blockland and pay a visit to Kaemena Eiscafé Blockland, where you can purchase their homemade organic ice cream "Snuten lekker". They have lots of flavours to taste, with their availability varying depending on which season you visit. If you don't have a bike or the time to visit them at their farm, tubs of their ice cream are available to purchase in many shops in Bremen. The ice cream shop at Kaemena is open from March – October, but during other times of the year you can still buy fresh milk, ice lollies and other fresh produce from their vending machines at the farm.
To find out how to get to Kaemena, click here.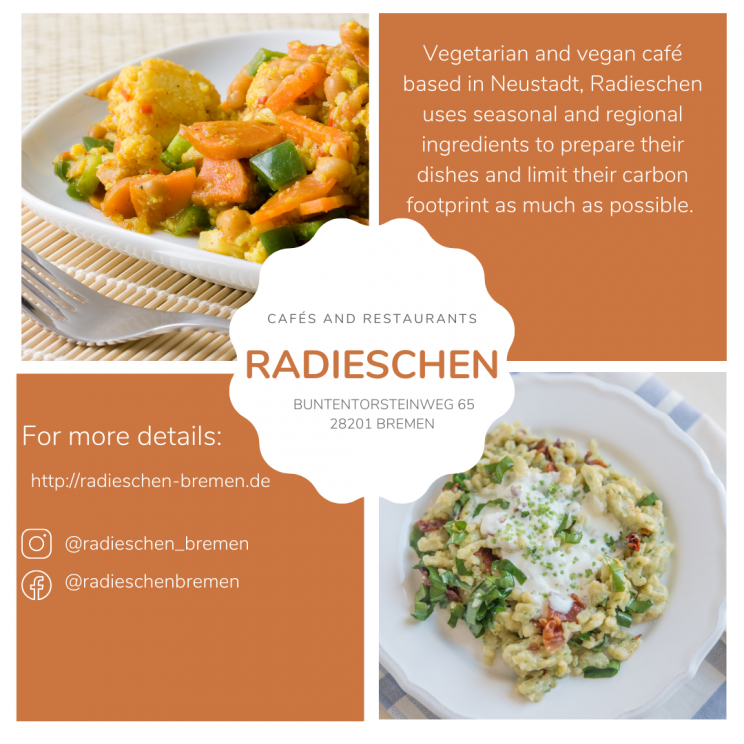 Radieschen
Radieschen's slogan is "Kaffee und Erinnerungen" ("coffee and memories") and are based in Neustadt, preparing vegetarian and vegan dishes from recipes passed down to them from generations to invoke nostalgia. They strive towards using ingredients from a fair-trade background and limiting their carbon footprint where possible by purchasing local, seasonal ingredients instead. They also try to limit their food waste by reusing ingredients and reprocessing them, following the "Resteküche"practice and zero-waste movement.
Read more about their philosophy on their website here.
Café-Bistro Alma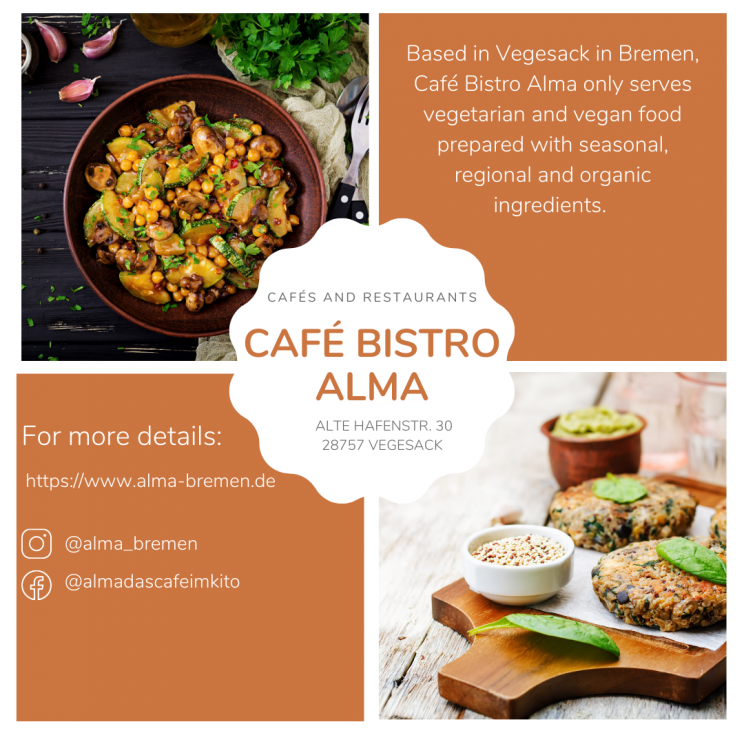 Café-Bistro Alma is based at the harbour in Vegesack, offering customers a cosy, warm atmosphere to relax and unwind with a range of coffee and homemade cake options. They use organic ingredients in their home baked goods and serve only vegetarian or vegan dishes.
Check out their menu and offers here.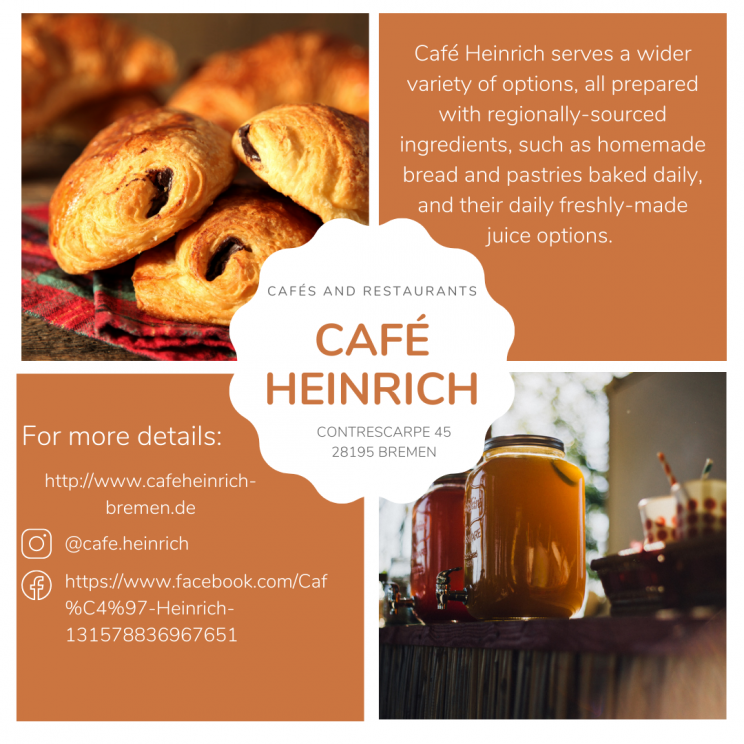 Café Heinrich
Café Heinrich has a wide range of breakfast and lunch options on offer to customers, including vegetarian and vegan dishes.  Every day they have a "Saft des Tages" ("Juice of the Day") offer, where you can try their colourful, delicious homemade juices and smoothies, along with their homemade fresh bread and pastries baked daily. Their offers are prepared with ingredients from the local region.
Find out more about Café Heinrich and discover their menus on their website.
Biten Bio Foodtruck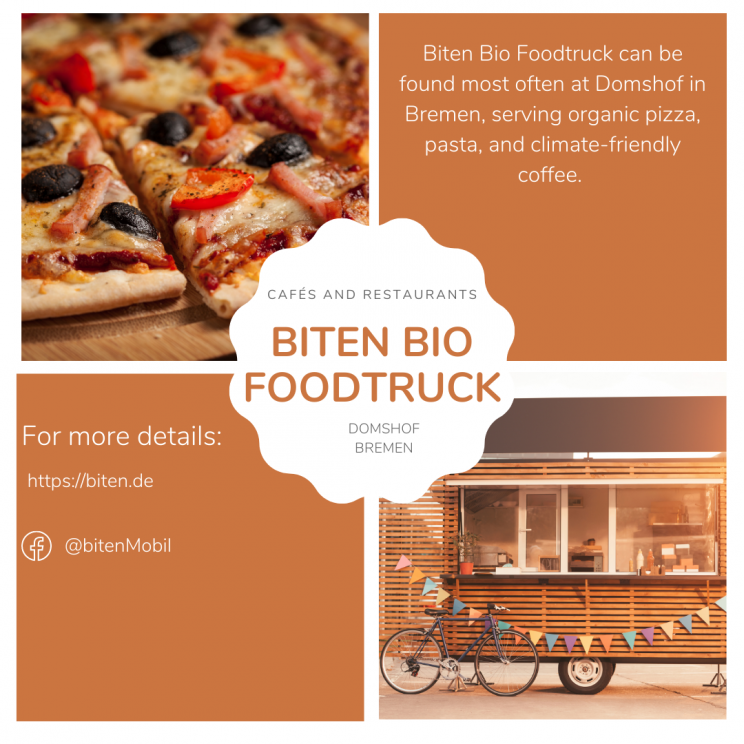 When you're looking for something quick and tasty, look no further than Biten. Biten is Bremen's first Bio-foodtruck that can be found most of the time at Domshof, where you can try out their delicious organic pizza, pasta and drink climate-friendly coffee. All their dishes are prepared with organic ingredients, and the foodtruck can be found at various markets across Bremen too.
Check out their Facebook page here for updates.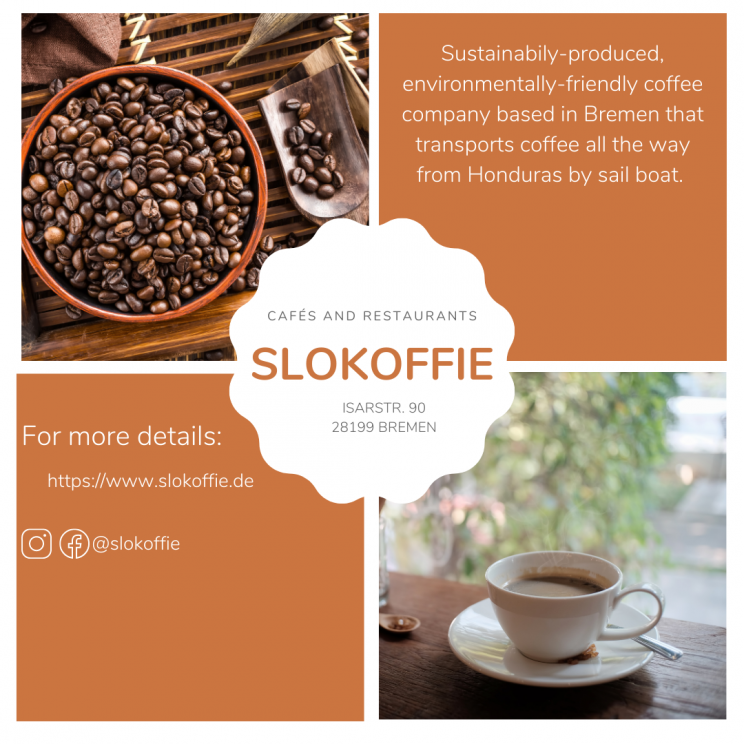 Slokoffie
Slokoffie was established in 2017 in Bremen and transports coffee beans from Honduras to Bremen sustainability by sail-boat. Their goal is to produce sustainably, environmentally-friendly coffee, and can be found to purchase in many cafes and shops in Bremen and across the north of Germany. You can check out the map on their website to find out where you can buy their packs of coffee beans.
Discover where you can buy Slokoffie on their interactive online map here.
Canova Café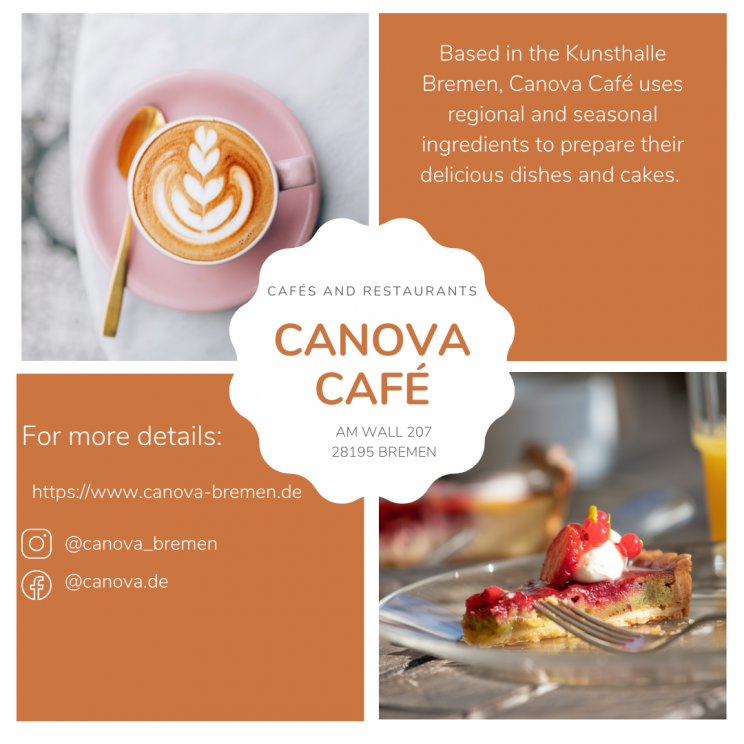 Canova Café can be found in Kunsthalle Bremen, and has dishes and options available at all times of the day, whether you're looking for just coffee and cake, or something larger and more substantial. Their dishes are prepared with regional, seasonal and sustainable ingredients.
Find out more of their offers by reading their menus here.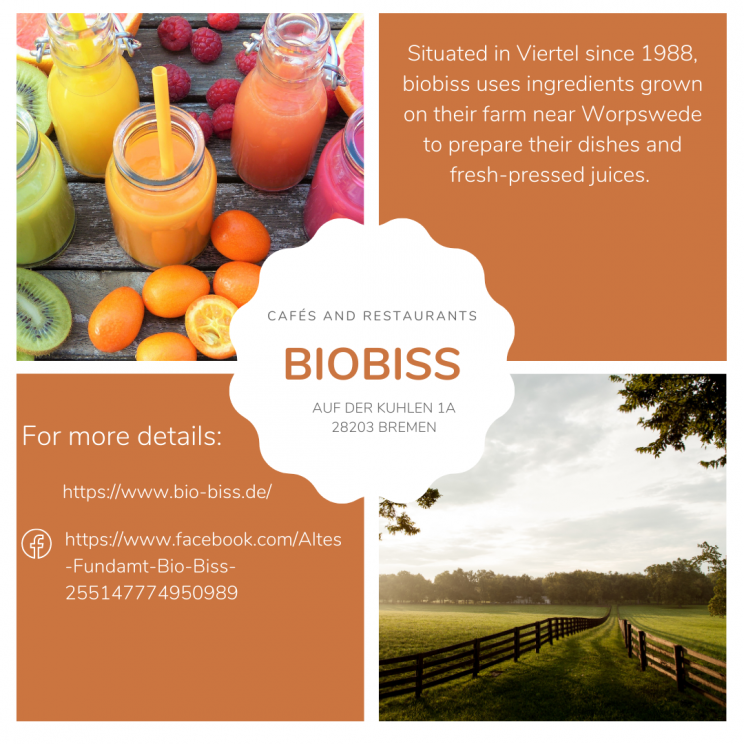 biobiss
biobiss first opened its doors in Viertel in 1988 and works in partnership with their farm on the outskirts of Worpswede, using local ingredients to prepare their lunch dishes. They have fresh-pressed juice available to-go and a large assortment of jams and honey.  Basic groceries can also be purchased here too and they offer catering services too.
Check out their frequently-updated menus on their website here.
VEGEFARM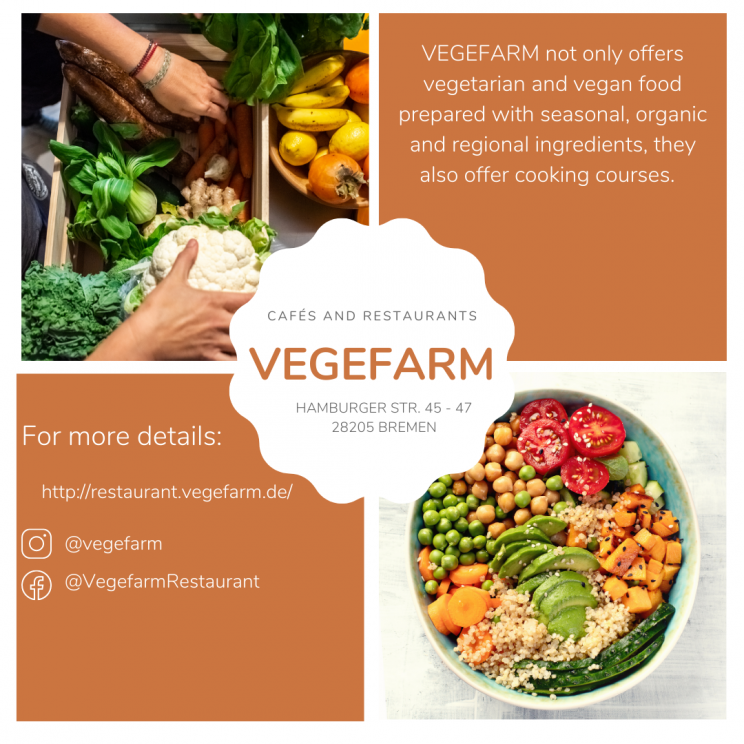 VEGEFARM serves vegetarian and vegan dishes prepared with bio, regional and seasonal ingredients. They also offer cooking courses in partnership with the Institut für Chinesische Medizin in Bremen on how to cook and prepare vegan dishes and takeaway service for their dishes too.
Find out more about their dishes on offer and courses here.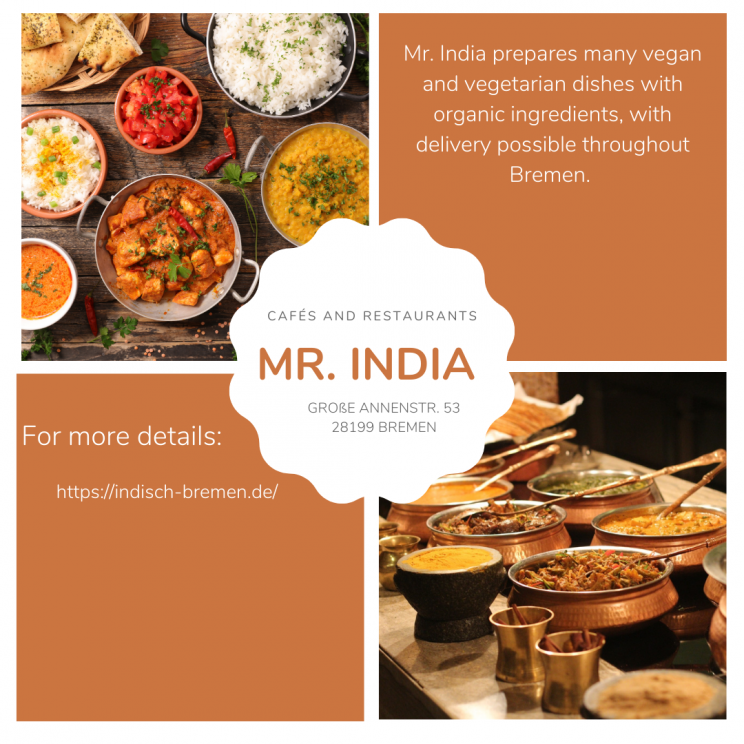 Mr. India
Mr. India prepares tasty Indian food with organic ingredients, with many of their dishes being vegetarian and vegan too, such as their vegan tofu pakora. They offer delivery to many different areas within Bremen.
You can order online from Mr. India here.
Teestübchen im Schnoor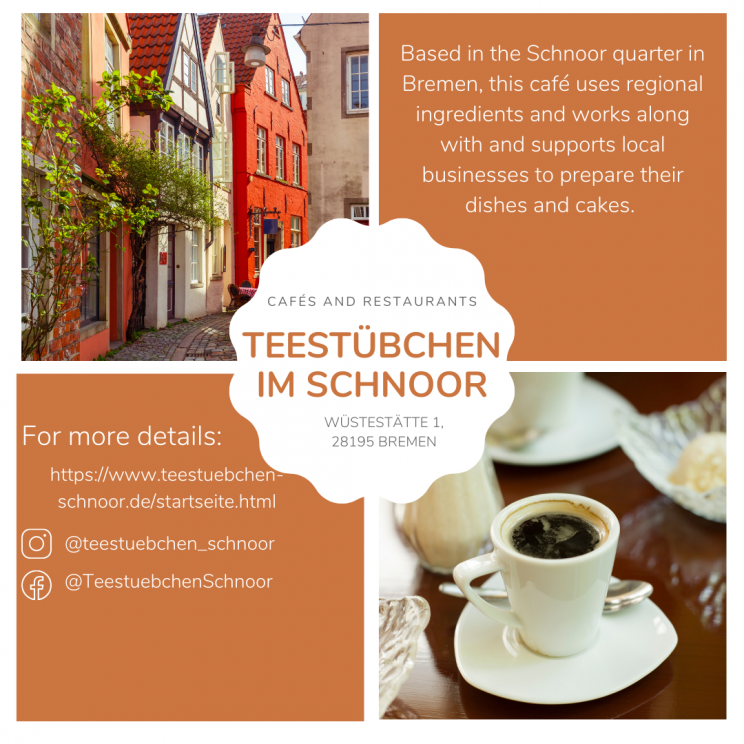 Situated in the picturesque Schnoor in the centre of Bremen, Teestübchen uses regional ingredients and strives to work with and support local businesses to give customers a wonderful experience in their cafe. They have different options available, from full meals to afternoon coffee and cake.
You can discover more about the history of Teestübchen here.