Its October and now summer is finally over. That's what they told me. I still have problems to believe that. The summer is over. In Greece. For real.
It rained today. It rained a lot and I finally have to admit to myself that its not enough anymore to wear my lovely sun-yellow textile sneakers all the time. Damn. Autumn arrived. Grey, rainy days and cold weather found us. On the bright side we don't have problems with wildfires, danger of extreme sunburns or failure of ventilation system or anymore. So yeayyy.
Summer was crazy. It was full, intense and mainly very hot. I was involved in various youth exchanges carried out by my receiving organization United Societies of Balkans. They implemented eight youth exchanges/training courses in summer season alone. Furthermore, they hosted quite a large amount of short term volunteers.  I cannot even remember how many new names and people I got to know. At one point I started to count but stopped at around 150 people.
Even though it was stressful period I could experience a lot during summer. I was basically doing the things which were needed to be done in the projects: Supporting participants, helping with workshop preparation, preparing coffee breaks,  preventing participants from getting lost to name a few. The most active part I took was within a youth exchange called "Gender equality in Media" and a training course called "Make your voice heard".  I am mainly experienced with workshops based on theater methods that's why I involved my expertise and implemented some theater with participants and trainers, what everybody really appreciated. I created some pretty beautiful memories there, as you can see in some of the pictures.
Furthermore, after a short visit to Germany I decided to travel back to Greece over land by train. I planned my route starting from Freiburg, Germany. From there I went  to Zuerich and then directly to Budapest by night train. From there through Romania to Sofia, Bulgaria, where I spend a night. In the end I took the bus from Sofia to Thessaloniki. I started travelling in the afternoon on a Saturday and arrived in Saloniki on Tuesday around noon. A long trip in comparison with a flight that takes around two and a half hours. But it was worth it.
It was a trip to come down and get a different understanding of traveling. It was a trip where I spend time listening to music and watching the landscape pass by while going through the middle of nowhere. I did various things during that travels. For example I wrote down 100 reasons why I should stop smoking. I made a bucket list for things I still want to do in Greece. What I liked most about the trip is that it gave me some time to come down and be present in the moment observing, while watching the world.
A lot of times I find myself drowning in a huge pile of work or other activities. In my adult life I was always really busy with studies, work and other things at the same time. Especially when organizing theater workshops (which is my main profession), it was very easy for me to get lost in the work. That can be a good and a bad thing. The question is when compassion becomes madness. That's why this journey had brought me some freedom and tranquility. I decided to do this again… not sure about the destination. Maybe I could travel to Armenia or to somewhere in Russia. We will see.
Since I am back again in Saloniki there is always stuff going on, especially when you are involved into this international volunteers bubble. United Societies of Balkans coordinates a large amount of long term volunteers, too. So there is a big international crown which is up for meeting up and planning basically any activity. For example recently we organized a cancer walk to raise awareness about breast cancer. In the end it was just a small crowed walking, however I believe we were able to raise awareness and spread the word, even with just this small action.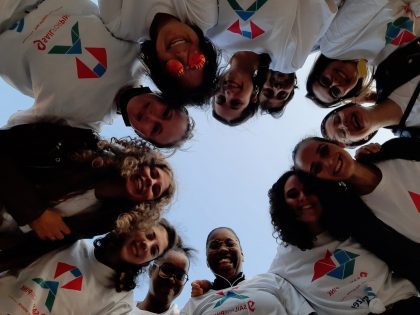 If you are more interested about the walk you can find a social media post about it, here: https://www.facebook.com/BalkanHotspot.org/photos/pcb.1739139096474684/1739138736474720 (see, even more awareness raising :D)
But sometimes I come to the point where I start to ponder. It is always easier to go with the internationals, because they are in a similar situation like you. Because of this lifestyle of a lot of international projects here and there, it is a bit hard for me to find local connection that is from outside my working environment.
That's why my wish for this nearer future here in Thessaloniki is to engage a bit in more local connection and activities. I started with it by signing up for a contemporary dance class in Greek….First lesson I understood shit… but step by step I have the feeling it will get better.
If you made it through this whole report up until this point, thanks for your endurance and attention.
Over and out.
Miriam
Miriam is hosted by United Societies of Balkans on the project "Global Difference Makers", financed by the European Solidarity Corps and JUGEND für Europa.