NOVEMBER:
3 years ago I went to a talk at the CMX about European volunteering and since then I have always wanted to do it. I started looking for projects at the end of August because my employment contract ended in September. I was looking for projects with children, animals or young people in Belgium, Germany and the Netherlands. I signed up for some projects in these countries where sometimes I had to send motivation letter and CV. It took a few days until they called me from one of the projects in the Netherlands, but it was a bit difficult for me to understand the call since my English is very basic. The truth discouraged me a bit, I thought that they were never going to select from any project because of my level of English, but I kept signing up for projects. A few days passed and I received an email to arrange an interview by Skype with an organization in Bremen (Germany) that had a project with young people and social networks, the interview was all very good but unfortunately I was not selected. This organization was delighted with me but it was not what they were looking for, then they sent me an email telling me that they had recommended me to another organization in the same city but in a school for special children; then I did an interview by zoom with the one who was going to be my tutor at school and he selected me to work with them. I went from being discouraged because no organization selected me to being very excited because I was going to go to another country for a year. At first I was super excited, as the days approached I was getting more nervous, but all that is normal. I did all the necessary paperwork, went to the chat with my sending organization (CMX). At no point did I feel alone, I had support from both my sending organization and my receiving organization. They helped me buy the flight in the cmx because I didn't know, but I paid for it and then they reimbursed me the money; I also needed two trains to get to Bremen. 
The day of the trip arrived and the nerves were a thousand, I had to print my certificate of why I was traveling to be able to leave Asturias for the Covid issue, I arrived in Madrid, wait a few hours, I arrived in Hamburg around 8, where I had to do the Coronavirus test, a subject that was a bit complicated because I did not understand any German. After that I went to catch the first train to Hamburg central station, then from Hamburg to Bremen and here my tutor was waiting for me to take me to the house where I was going to live for a year. I had to be in quarantine for 4 days until the results of the test will arrive, those 4 days were very low both due to the quarantine and the change of life. Once I received the negative results, I was able to get to know the city a little, find out where I was and where I would do my shopping from now on. I got to know my roommates even more, I live with a Russian, a Greek, a Czech and a Norwegian. The following week I started school … 
DECEMBER:
My volunteering is in the north of Germany in a school for special children, between the ages of 7 and 18. The first few days I was a little confused about the trains I had to take to go to school, but little by little I adjusted. At school, my job is to help the sports teacher, either by helping the children to do different activities or by putting together the necessary equipment to carry out these activities, it should be noted that not all children have the same disabilities, therefore they do not need the same attention. The teacher I work with is from Argentina, but he rarely speaks to me in Spanish as he wants me to learn German. Luckily for me, although I don't speak German, the children are very affectionate to me and I communicate with them in English and by signing.
In relation to the city, it is a city very similar to Gijon, but colder and without a beach, but it has a lot of nature and rivers, it is very cozy and with beautiful landscapes. Although with the virus situation, we can do very little. In the apartment where I live there are 4 women and in January a new volunteer comes, the truth is we have a very good coexistence and we spend a lot of time together. There are also 3 other volunteer houses near here, and sometimes we all get together for walks, dinner or to watch a movie. In that regard, I never feel alone, as we try to keep each other company. One of the benefits of volunteering in Europe is the opportunity to learn another language, I wanted to improve my English, but when volunteering in Germany the course that corresponds to me is German. But the course for me was very advanced, because they were not classes as such, but they only spoke about a topic in German, for example politics, and so I did not learn anything, so I decided to leave the course, and at the same time a few weeks the tutor decided to change the teacher for the beginners.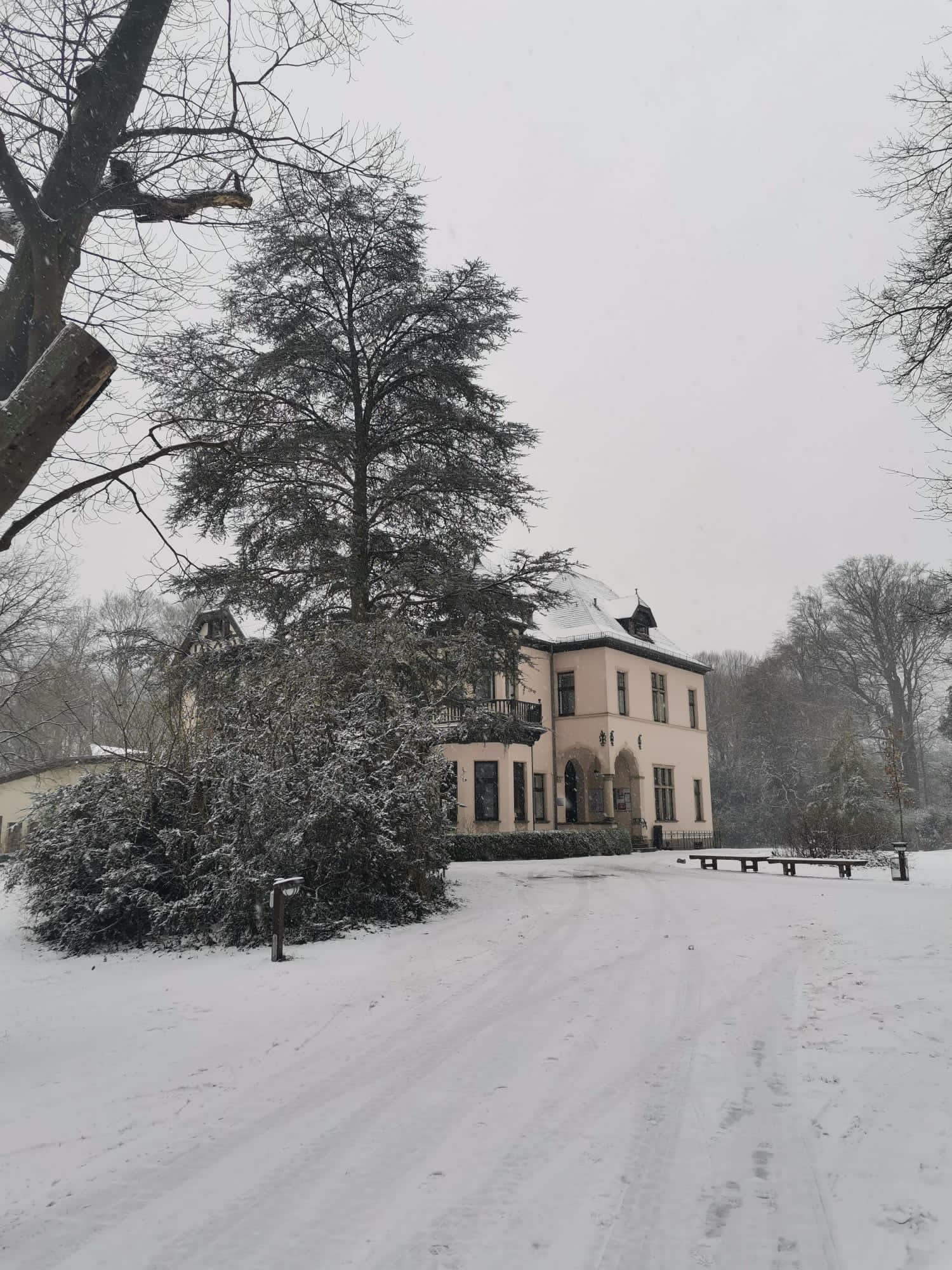 JANUARY:
This month was a bit complicated, I was in contact without a mask with a positive case of coronavirus at the school where I volunteer, since I do not know it is allowed to wear a mask in sports class because they are special children, which increases the possibilities contagion. I was quarantined for two weeks but luckily I tested negative on both tests and was able to go back to school. However, with the new restrictions in the school the number of students has decreased, since it is the parents' decision to send the children or not, sometimes there are classes where only two children attend, but even so we do everything possible to entertain and exercise children. Regarding the apartment and my companions, in January a boy from Macedonia arrived and now we are 4 girls and a boy, the truth is we are very close and we are like a family, we do activities together both inside and outside the house, I feel very good with them, the atmosphere between all of them is good.
In relation to the money I receive from volunteering, because the truth is that I get along quite well, the first month I was a little scared because I thought that this money would not be enough to cover all my expenses, taking into account that Germany is much more expensive than Spain, but fortunately if it is enough, in fact I have bought some things for the room; it's all a matter of knowing how to manage yourself. On the other hand, I am improving with the languages, since I arrived in Germany with a very basic level of English and with zero knowledge of German, at first it was difficult, but I am obliged to speak in English with my roommates and other volunteers , so in one way or another I'm improving it; With German I go a little slower because it is very complicated, in fact it is one of the most difficult languages ​​to learn in the world, but I still try to learn as much as I can in each class.
FEBRUARY:
I have been volunteering for 3 months now here in Germany, in a school for special children. Time passes very quickly, and that is thanks to how good I feel here, the truth is I feel that I had very good luck living with the companions that I live and with the tutors that I have, they all support me at all times and I have never felt alone. In this school I have done many new things, which for most of the children here, are normal, such as ice skating, ice skiing, normal skiing, boxing, badminton and fencing; The truth is that it excites me because no day is the same as the other, both because we vary the activities and because special children do not always react in the same way, since some do not know how to control their emotions, sometimes some cry or get upset because they lost in a game, they did a bad exercise or they just fell and you have to be patient and let them assimilate the situation.
This month was very beautiful here in Bremen, the first days there was snow and it was the first time I saw snow in my life, it thrilled me like a child, and then it was wonderful days with a lot of sun. The truth is that I do not see the moment that it is summer, this is a very beautiful city and I imagine that in that season it will be even more. On the other hand, unfortunately here everything is still closed, only pharmacies and supermarkets are open, therefore we cannot go out for a drink in the afternoons, sometimes what we do is order food at home that we can, or go out to eat in a park all volunteers together since we live relatively close. For the day of love and friendship we exchanged gifts between everyone, it was an incredible day, we had a great time. I keep improving my English, I have tried to learn German, sometimes I dare to say some sentences although my pronunciation is not very good, now that I study German, I realize how easy English is.
MARCH:
In this volunteering I am doing many things for the first time, one of them is swimming in a professional pool, I had always gone to hotel pools and similar things, at the same time taking care of special children while they play or swim. Behind the school we have a natural park where we often hike and at the end we go to the climbing wall that is inside the school. My German has improved compared to the level I had which was 0. The little German that I have improved mostly in grammar and listening is thanks to the fact that I receive German classes once a week paid by my host organization, also my tutor at school sends me homework, which I thank him because he does it to help me and I also watch free classes on YouTube, so the combination of all this has been key to my improvement. Although I will not deny it, there have been days when I think about quitting because German is not exactly an easy language, especially in the grammatical part, its different articles and declensions. On the other hand, what has improved enormously has been English, for two reasons, one because a girl who is also a volunteer offered to give me English classes every Tuesday and that has helped me, and two because I am obliged to speak English , is the language spoken at home. The other volunteers correct me when I say a wrong sentence or mispronounce it, and it is good because I do not mind being directed, it is the only way to learn.
Spring started this month but luckily it seems like summer, I will have two weeks of vacation so I will enjoy these days, last weekend we traveled to Hamburg, and we have planned to visit other cities since there are discounts on train tickets for groups and us there are 4 of us, this way we don't spend so much money and we know places. We have gone to the river, to the park, to ride a bicycle, the truth is that this city has many natural landscapes, in that it is similar to Gijon but it is a beach. It makes me sad just thinking that my volunteering is going to end, I only have almost 5 months left and here I feel that time flies by, and I am glad to feel that, because it only happens when you are having a good time and you like what you do. I do not feel the same Maria who left Spain a few months ago, I have changed and in a certain way that is one of the objectives of this project.
APRIL:
This month the arrival of spring is felt more and that summer is approaching, I saw how it snowed while it was a sunny day, excellent landscapes to enjoy and take photos. This month we began to do sports outside, and not in the gym with a roof, that implies that the sports we do also change. Before, we did sports with gymnastics equipment, volleyball, boxing, fencing and jumps on equipment; Now by moving the sports class outside, the sports we do are javelin throwing, obstacle jumping, walking, running, baseball, Frisbee games, and general warm-ups. On the other hand, this month the rules in relation to the coronavirus here in Germany changed again, they established the curfew; I have been here since November and it is the first time they have established it, also all establishments such as stores and shopping centers are still closed, only supermarkets, pharmacies and schools are open, but now they decided to close schools too, therefore the school decided that only it will open for the youngest children who cannot stay at home because their parents work, this being a special school; the others remain closed until further notice.
This month was also my second seminar, in volunteering you must do two seminars that last a week, one you do a few weeks after arriving where they explain the tools you have, what you should do and you share with other volunteers as well; the second you do it in the middle of your project, it is more related to the things you can do when you finish your project, if you decide to stay in germany they explain what you should do in addition to the benefits that have already done a volunteer here; on the other hand, topics are also discussed that the participants themselves propose and want to share with others. Normally these seminars are usually held in Hamburg or Berlin but due to the covid situation, they are now done online, in that week you do not go to your workplace. I am a little calmer because I already have the two doses of the vaccine, I have the Pfizer vaccine, here they are only being given to the elderly and health personnel, but since I work in a school and I am in contact with children they offered us the possibility to put it on and accept it, I must say that the first dose I had some symptoms such as fever, dizziness, headache and arm pain, but the second was better only pain in the arm where they gave me the vaccine, but all that is normal, it is still something new in your body and the body is just reacting. However, not everything is so pleasant, other things that changed here in Germany were that now only meetings are allowed at home with only one person from another house, when previously 5 were allowed, therefore we cannot meet with the other volunteers like we did before. Hopefully things improve soon and we can meet again …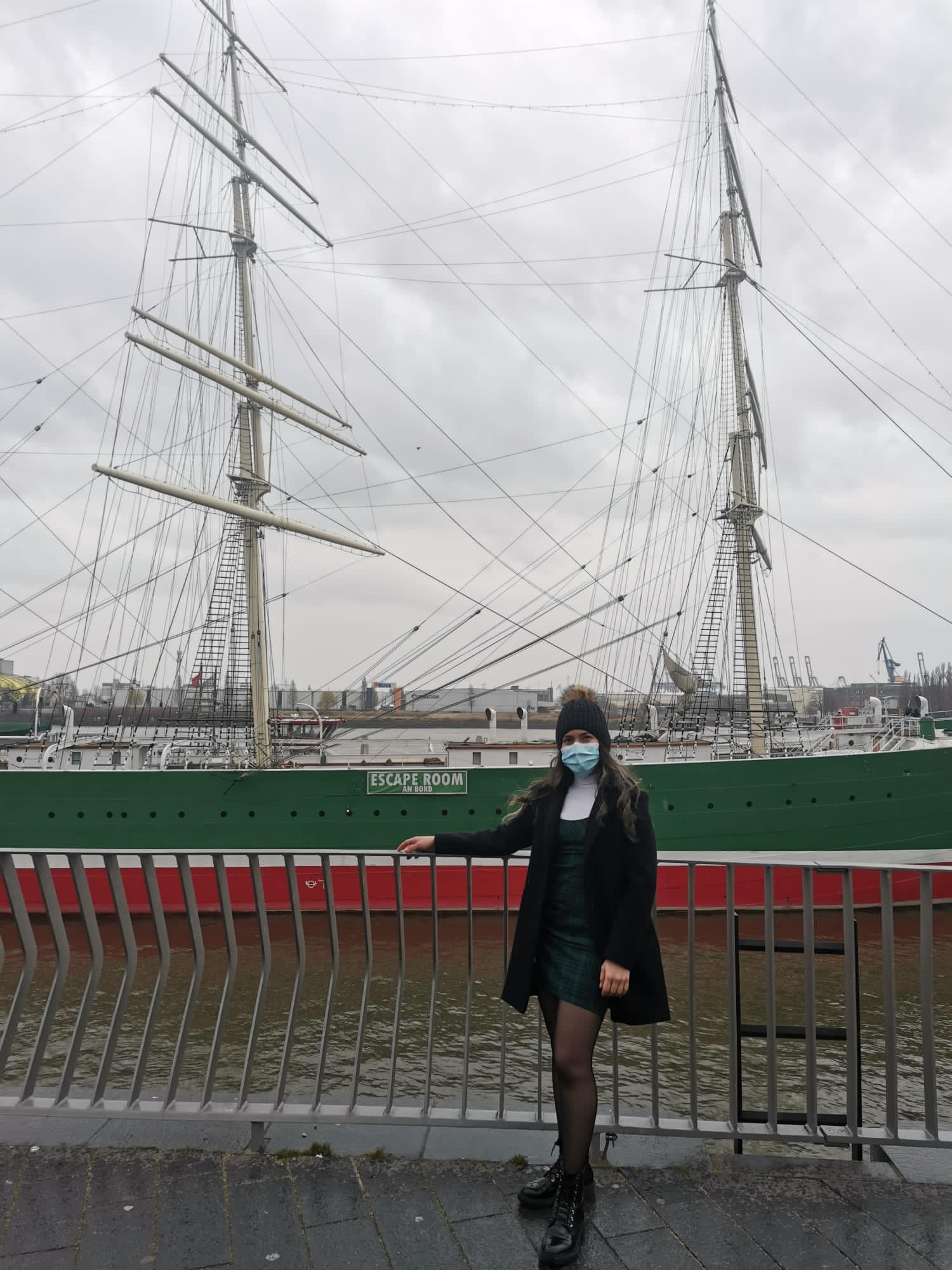 MAY:
This month summer already feels closer, hotter days, people are happier and more people are seen on the street. At school we continue to do sports class outside, with Olympic sports, I was also in gardening and cooking. As for the restrictions, they are easing a bit, they have lifted the curfew, more people can gather in the houses than previously only one was allowed, they opened bars, restaurants and shops; In fact, it was the first time in everything that led to the project that I went to a bar here in Germany, we also went to a restaurant with the other colleagues, although with some restrictions still, such as the use of a mask when you are not eating, It is only allowed to sit on the terrace and you must bring a covid test or the paper where it appears that you are vaccinated, since the police inspect and if you do not have the PCR or the vaccines, they will fine you and the premises.
Two of the volunteers finished their project, consequently two new volunteers came, a girl from Russia and a boy from Spain (Toledo), right now among all the volunteers there are 14, the Spanish are winning, then the Italians follow. The truth is that we are a very united group, and although it is sad that people with whom you shared a lot are leaving, in the same way we make those who are integrating now feel the best possible, and even more so now that more things can be done and the weather is better. We did two group trips, one to Hannover and one to Gottingen, both trips were great, although each city with its own particular charm. Hannover for example is a city a little bigger than Bremen, which has a lot of presence of the Gothic style in its buildings and a lot of nature, however Gottingen is a smaller town where people travel by bicycle and the center is covered in 30 minutes. Here I met with a friend I did in the online seminar and she guided us. I continue to rent books in the library, to read while I go on the train, since it is an hour's journey from my house to school, now I am reading Zafon.