Who are you, where do you come from?
I am Minou Heinemann, from Bamberg, Germany (Bavaria).
How come you've decided to go on ESC?
I wanted to go on ESC, because I found it to be a great opportunity to engage in a new culture and to benefit a local community by helping in a project. I chose an ecological project in order to help spread environmental awareness and learn more about sustainable conservation. I really liked the opportunity to live abroad as well being able to travel in Spain. I was very glad that I found the European Solidarity Corps because it offers volunteers a unique experience, supporting you throughout your stay, organizing seminars and even offering language courses abroad. Furthermore, you receive financial support, which made the ESC an affordable way to experience living and volunteering abroad.
How do you see this experience influencing your personality, your views, your future?
By living alone abroad for the first time and having many responsibilities in a new workplace I learned to show initiative and become more independent. It also helped me reach conclusions concerning my plans for the future. The experience has highlighted the importance of family and friends at home whilst at the same time making me want to study and live abroad again. The direct contact with a new culture and language made me a lot more curious to experience even more new cultures in the future.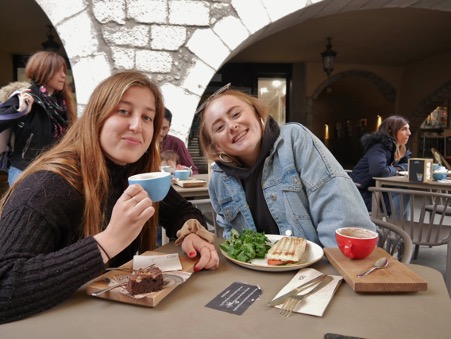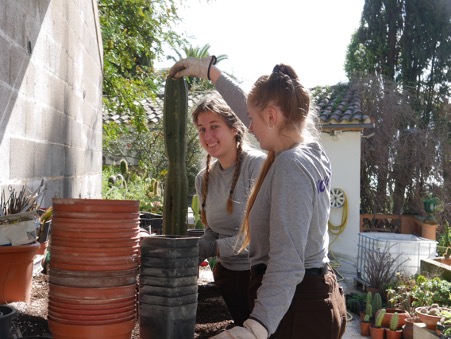 Who are you, and where do you come from?
Kaja Britt Meyer, Northern Germany near Bremen.
How come you've decided to go on ESC?
I wanted to go abroad after school, but I was insecure whether just traveling would be the right thing for me. I wanted to know what it is like to live abroad since I have been thinking about studying abroad for years and this time would be like a great test for me. When I found out about the European Solidarity Corps I was surprised that such a great offer is financially supported since programs like this often cost a lot of money and are offered by private organizations.Moreover, the European Solidarity Corps is like the perfect combination of living abroad, helping others and as well having the opportunity to travel (in our case in Spain; Barcelona, Zaragoza, Valencia and Huesca).
How do you see this experience influencing your personality, your views, your future?
I've been open minded and willing to meet new people and live abroad before, but I think this experience even supported and strengthened my mindset. Now I can imagine clearly to live abroad again but as well I know how much I appreciate my family and friends at home. Even though I am still quite stubborn I learned to look around me more and to respect and tolerate other opinions even though I've got a different opinion.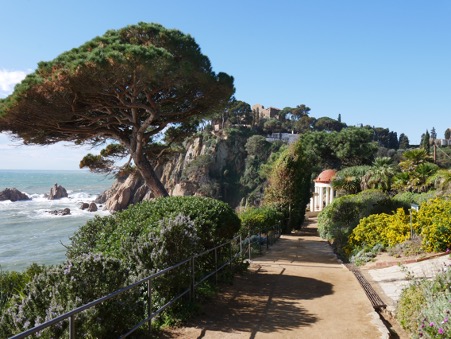 What was your ESC about?
Our ESC was about protecting the environment, learning about the whole system of a botanical garden and being able to look into all the different areas, from gardening and research on plants and seeds to dissemination and education. The organization we volunteered for is called the Carl Faust Foundation. The botanical garden Marimurtra was founded by Carl Faust. He was a German philanthropist who was very interested in botany and wanted to create a place for himself and scientists in order to do research and preserve various plant species from all over the world.
Nowadays Marimurtra is open to the public and tries to meet all the parameters a botanical garden should have: Education (having volunteers, interns and school groups), Research and exchange with other botanical gardens and the continuing preservation of species. Our main responsibilities were creating an herbarium (an inventory of all species in the garden) and organizing and digitalizing the seed bank (which will later be shown to gardens interested in acquiring or exchanging seeds).
What are the 10 things you have learned during your stay there?
During our stay in Spain we learnt a lot of different things. Some skills we acquired are specific ones related to our work in a botanical garden; others are more general ones which were mainly achieved by living abroad independently. Since we worked in a botanical garden, we worked with plants most of the time. We learnt about different species and treatments. We gained a lot of knowledge about planting in general and as well about how to treat plants best. One of our main tasks was to create an herbarium which included picking specific plants and pressing them right. So, we learnt to preserve and to prepare them for a collection of all plants.
Moreover, we worked with different programs which are supposed to make working with several teammates easier. Programs like Asana helped us to organize tasks.
Catalonia is special part of Spain; we learnt a lot about the differences to the other regions of Spain and the political situation by talking to other workers. Since, they represented different opinions we were able to look at the current situation from different point of views and to understand the different parties and their interests. Even though, we clearly improved our Spanish and Catalan trough a language course and as well trough daily communications, we aren't fluent in either of the two languages. But we still figured out how to communicate with the gardeners and other inhabitants on a daily basis by using sign language, English and parts of Catalan and Spanish.
For us it was pretty easy to integrate in our working team since everyone was super nice and welcomed us well. Thus, we were supported by our mentors to put our ideas into action as much as possible. When we went to our first seminar in Spain, the On-Arrival Training we met a lot of new people from countries all over Europe. Thus, we met tons of new cultures. We had a lot of interesting conversations about politics, values and expectations. By exchanging those thoughts, we learnt about differences and similarities in-between European countries.
Besides the conversations with the other volunteers, we listened to several presentations about different topics like communication or different opportunities offered by the EU especially for young people. Since, this was the first time for both of us living on our own we became way more responsible for ourselves and our level of independence increased massively. We realized that it is worth trying something new and unknown and that this is even needed to develop as an individual.
Both of us became more self-confident and more determined concerning achieving our goals.

Would you recommend the ESC?
We would definitely recommend the ESC experience to others. You have a great variety of projects to choose from and can decide the length and place of your voluntary work. One gets the amazing opportunity to live in a new environment, meet new people and learn a lot by being in a specific field of interest in a project. You can also grow personally, gain more confidence and learn to be more independent.
In addition, if you do the ESC abroad as we did, you learn a new language and are confronted with an interesting new culture. It is also a great opportunity to delve deeper into the topics in your project that you might want to pursue as a career later on.
As the ESC is very well structured, you also get to meet other volunteers on seminars, and can visit them while travelling.
Routine February and March: We worked from Monday to Friday each week. Each day differed from the day before since we had various tasks. On Mondays and Wednesdays, we worked with the gardeners from 8h to 13h. These days we were mainly working directly in the garden and for example planted plants or cleaned the paths for the visitors. On Mondays, we went home after working in the garden. On Wednesdays, we had our weekly meeting in the afternoon with our mentor to talk about different things like the Youthpass or other important things which were needed to be planned. On Tuesdays and Thursdays, we had our Catalan course in the morning. Around midday we went to the garden to work in the office until 16h / 17h. On Fridays, we worked in the office from 9h to 13h. On these office days we worked on different tasks like pressing and collecting plants to create an herbarium or doing research for the seed bank we digitalized earlier. On the weekends we had free time, so we were able to go on trips to cities nearby like Girona or Barcelona. Depending on the weather we even sometimes visited the beach and enjoyed the early sun.
Kaja and Minou
Kaja and Minou were hosted on the project "Solidarity Seeds" at Marimurtra Botanical Garden, financed by the European Solidarity Corps and the Spanish National Agency.