Hello everyone, my name is Dolores and I am currently an ESC volunteer in Zagreb, Croatia.
The month of November started off with Eduardo's and Francesco's intercultural evening (fellow volunteers) about their countries – Spain and Italy.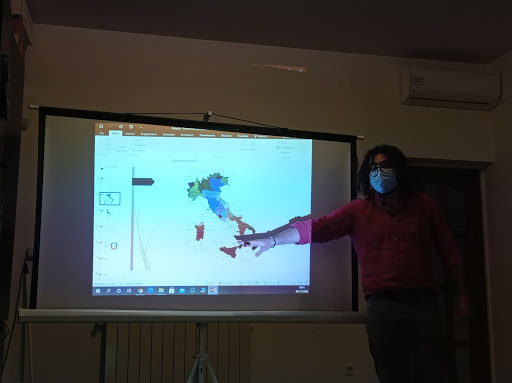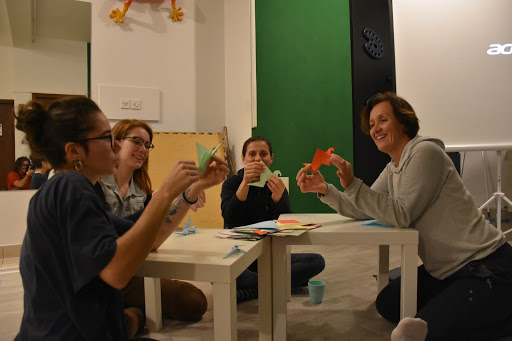 Over the course of the whole month our language classes and Croatian lessons took place and I was really excited to continue having them.
I also attended another volunteer's first workshop about making origami and book-binding.
Me and Eduardo had a presentation over Zoom for one school where we talked about our experience so far and we encouraged others to also try volunteering if they have the time and motivation to do so. We held the presentation three times in a span of three hours and even though we had some technical difficulties, we managed to do everything in the end.
Another thing we did is help with a capoeira class where children with difficulties participated. Our role was to help and guide them through the capoeira movements and I have to say that I had a lot of fun. The children had so much energy and it was a great experience to work with them.
Me and the rest of the volunteers at Amazonas, also started to plan a short film about our experience and daily routine as volunteers here in Croatia.
Also starting in December, Amazonas wanted to start an online-campaign regarding mental health in response to the on-going pandemic. Make sure to look out for that on the Amazonas' website and Instagram.
Since the Christmas season was starting in Croatia, we were all very excited to see how it will be celebrated here.
The month of December felt like it was way shorter since our holidays started on the 21st of December and most of us went back to our home countries for Christmas and New Year.
Since there were new measures we had to change how we work and had to go more online with everything.
For one, all of our language classes were moved online and we had the classes over  Zoom. It was a little bit difficult since I had to change how I taught my classes and I would say it is harder to teach online but I managed to do it. December also marked the end of the first semester of our language classes. If you are interested as well, you can find the application on Facebook or Instagram.
Also there weren't any more classes like Capoeira or Acrobatics in person so we filmed challenges and put them online. We, the volunteers, have participated in the Sally Challenge – Squats which you can find on YouTube!
And one of our final tasks in the year 2020 was a short movie about our lives as volunteers here in Croatia and we are very excited for everyone to see it here.
Before most of us went back to our home countries we and the Amazonas' team had a little Christmas party at our office and it was a great way to end the year here in Croatia. Everybody brought some food and we listened to Christmas music from all our home countries.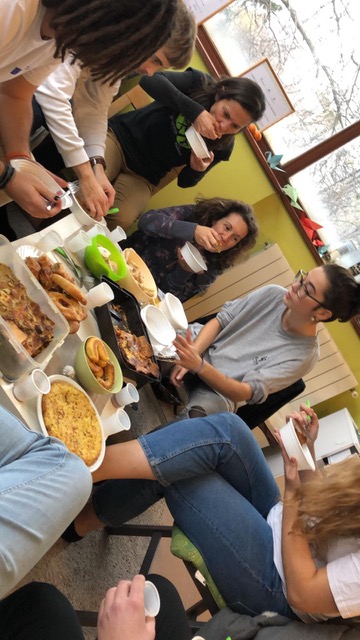 In January our work started officially on the 11th of January but some of us were in quarantine due to the measurements when coming back and for others their flight got cancelled a few times due to snow. However, we all made it safely back to Zagreb at one point and we were all excited to see what the new year brings.
The second semester of language classes officially started and since the measures didn't change, the classes remained online. That means that we had the same concept of online lessons but now with new and returning students for the second semester.
The online campaign "Can you make it better?" officially started as well. There is also going to be a blog which goes a little more into depth about this, so watch out for that!
Right now we are planning a few things for the future. For one we, the volunteers, have to think about and start planning our personal project. The main aim of this activity is to give the opportunity to every volunteer to express his/her own creativity.
Another thing is the English café and cultural exchange which will be held by Francesco and me. It will start on the 16th of February, so if you are interested applications start this or next week and additional information can be found on the Amazonas' platforms.
We got a new task which is to film 4 little tutorials which are all about volunteering. So if you are interested keep an eye out for this on the Amazonas' platforms.
And that is all for now, see you guys soon!
Dolores
Dolores is hosted on the project "Bringing Solidarity to Capoeira Community" financed by the European Solidarity Corps and Agenicja za mobilnost i programe EU.