From the 1st to the 10th of September, two youth workers from Germany represented NaturKultur e.V. on a Training Course in Struga, North Macedonia. The TC is the second event of the Erasmus+ project "Get Updated: Project for Professional Development of Youth Workers", this time focusing on communication skills for youth workers and conflict management. Thirty-six young people from fifteen countries all over Europe (Spain, Italy, Croatia, Bulgaria, Romania, Greece, Hungary, Finland, Sweden, Norway, the United Kingdom, Poland, Germany, Ireland and North Macedonia) came together to deepen their knowledge in a wide range of communication strategies and models, in order to use them for solving conflict situations in youth work.
Participants learned methods to explore the roots of (not only) intercultural conflicts in a communicative way in order to find a solution that satisfies all needs or is an acceptable compromise for both parties. Conflicts can appear in a lot of different fields: youth work, at the workplace, in societies and communities or among friends and relatives. Every situation requires a specific approach to solve the conflict.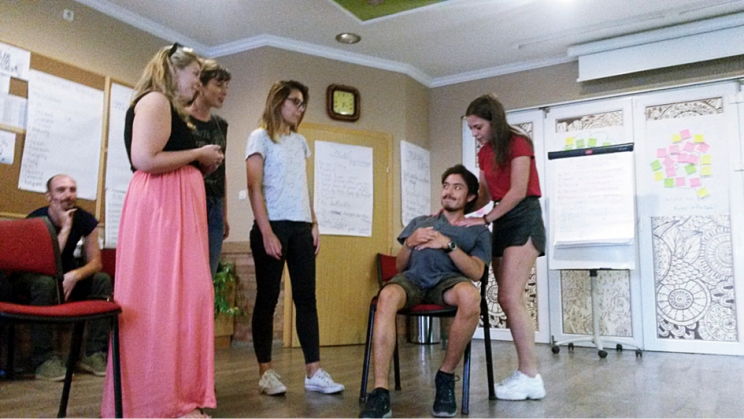 The concepts were introduced to the participants by non-formal methods like conflict simulations and role-plays and solution strategies. Theoretical inputs and terminology of communication and conflict management were also part of the training.
Although the program was intense, there was also enough time to exchange experiences, get in touch with the other participants, get to know other cultures, challenge the own comfort zone and make new friends.
Located at the beautiful Lake Ohrid, there was also time to enjoy the amazing nature and the city of Ohrid.
As a follow-up activity, participants are now preparing a workshop on the local level in order to apply their new knowledge and to transfer it to other young people in our country.
Thanks to the Erasmus+ program of the European Commission for making our experiences possible!
Sebastian & Tamara