Are you interested in environmental protection and healthy lifestyle? Do you want to join a group of young people from different parts of the world in a campsite to challenge yourself and to try something new? If yes, you should surely apply!
Dates: 12.07.-22.07.2022
Location: Campsite Juliusplate, Berne, Bremen
"Change today for a better tomorrow" is going to be a youth exchange organized in Berne, Bremen in Germany which will include 51 young people and group leaders from 6 different countries: Czech Republic, Cyprus, Romania, The Republic of North Macedonia, Greece and Germany.
The objectives of the project are:
to encourage the participants to try out new activities and discover the fun side of being physically active together

to address the lack of motivation and clear information that many youngsters have regarding sport and active lifestyle

to address the lack of activism among some young people regarding nature and environmental protection
Accommodation and Logistics
You will be accommodated in a campsite Juliusplate in Berne, near Bremen. Participants will be
sleeping in a tent (alone or with one more person). There are showers and toilets in the camping site and there will be two big tents, one that will be used as a kitchen and the second one that can be used for workshops in case of bad weather.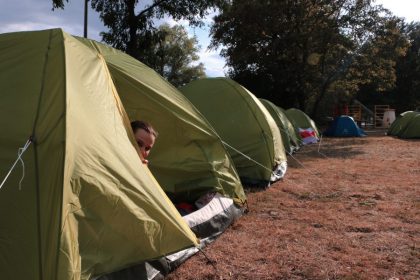 Travel costs to the venue and back will be reimbursed up to the maximum of the amount indicated by the distance calculator provided by the European Commission: 
– Germany up to 100 EUR
– Greece 360 EUR
– Czech Republic 275 EUR
– Romania 275 EUR
– Cyprus 360 EUR
– Republic of North Macedonia 275 EUR
For more information check out the Info Pack
You can apply below if you are…
Between 18 – 25 years old (group leaders 18+). 

Living in Germany or a resident of the following countries: Czech Republic, Cyprus, Romania, The Republic of North Macedonia and Greece

Interested in topics of environmental protection and healthy lifestyle, outdoor activities, camping.

Participants don't need to have good knowledge in English, but group leaders should be able to communicate in English.

Previous experience in Erasmus+ is not required but participants should show initiative for learning new things and working with other young people.

All partners should do their best to create gender balanced teams 4 + 4 including group leaders.
Please note that only residents of Germany can apply through the form below. Others have to contact the partner organisations in their respective countries:
Czech Republic – European Youth Centre Breclav
Cyprus – ARGONAFTES
Romania – Artistic and Social Revolution Association
The Republic of North Macedonia – Zdruzenie izvidnicki odred Mirko Mileski Kicevo
Greece – Hellenic Youth Participation
Application deadline: 05.07.2022
If you have any questions, please contact Lina: [email protected]
Error: Contact form not found.