*** Call closed ***
Have you ever dreamt about working in a garden and organising sustainability projects? Or have you ever had the desire to work in a fun, outgoing, creative and multinational team with lots of experience in the field of international youth work? If any of the above is true for you, then we might have the perfect opportunity for you!
Dates: 01.09.2021 – 31.08.2022
Location: Bremen, Germany
Hosting Organisation:  NaturKultur Bremen e.V. and KulturHaus
We are looking for one motivated volunteer from an EU country to join our team!
About us
We are a youth organisation that is focused on international youth work. We organize between 8-10 Youth Exchanges and 2-3 training courses per year, and we are sending young people on many international projects abroad. We are also the coordinating organization for volunteering opportunities – that means that we are organising voluntary services in Bremen and also send German youngsters abroad. Our office is located in Bremen, but we organize our projects in our KulturHaus in Garlstedt, which is close to Osterholz-Scharmbeck and 30 min by car from Bremen.
Our local and international projects aim to encourage and support young people through non-formal learning opportunities, especially focusing on the topics of interculturalism, tolerance, diversity and understanding among the different cultures in Europe. We are also organizing local events in Bremen and extending our network in the area by cooperating with other organizations and institutions.
So, who's on our team? You can find out here!
And what have we been up to in the past 10 years? That's what you can read here.
Social Media is more interesting? Here's our Instagram and YouTube Channel !
Your Position: KulturHaus & Sustainability Volunteer
The main goal – to help us turn our youth house garden into a green paradise and make our maintenance of the house more sustainable!
Helping our team members maintain the garden and house – KulturHaus is our beautiful youth house, which is located ca. 3omin by bus from your volunteer house in the middle of a forest.
Development of your own ideas in the garden and around the house – previous volunteer projects were i.e. a compost, bird houses, raised bed gardens etc., as well as workshops on sustainability and DIY projects
Helping us develop a strategy for a more sustainable use of the house – i.e. establishing connections with neighbours and local farms
Supporting the maintenance of the bikes in the house
Organising small local projects for the community of Bremen together with the other 12 ESC volunteers in Bremen
To get a better idea of what this position entails, you can read Andrea's report: https://www.naturkultur.eu/en/andrea-in-bremen-germany-1st-report/
Who are we looking for? A person who is passionate about nature and DIY – you do not need to have previous experience, just be open and motivated to try new things!
Logistics
Our organisation, NaturKultur Bremen e.V., will be the coordinating organisation in charge of all logistical matters.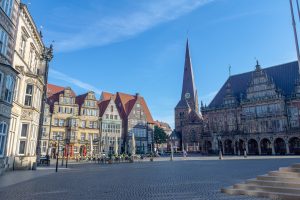 You will be accommodated in a flat or a house in Bremen with 3-4 other ESC volunteers. You will have your private bedroom and share the kitchen, bathroom and other spaces in the flat/house with other volunteers.
Bremen is a city in North-West Germany (around 500.000 inhabitants), not far from Hamburg and the North Sea coast. Bremen is a vibrant, multi-cultural city with a lot of young people and both a historical centre and newer areas of towns.
As an ESC volunteer, you will receive health insurance, monthly pocket money for food and other expenses (246€ + 150€).
Travel costs will be reimbursed depending on the travel distance (normally between 180-360€). Please note that you cannot apply if you need a visa/residence permit.
You will be supported by a Coordinator and a Mentor to help you get settled in your work place and the city of Bremen. You can also attend our German conversation class of at least 1 hour per week.
But – how is it to volunteer in Bremen?
You can check out our Instagram Account @volunteersofbremen
And if you'd rather watch a video – here's Nikola's story, who volunteered in another organisation Bremen in 2019: https://www.youtube.com/watch?v=BMKQLzeO2Fs
You can apply, if you…
… are a resident of an EU Country (not Germany) and do not need a visa/residence permit

… are between 18-30 years old (on the day you start your ESC)
… can communicate in English (A2-B1) OR German (A2)  and are willing to improve your language skills in German and English. Our NaturKultur team in Bremen speaks English, German, Macedonian, and Slovenian.
… are interested in gardening, hands-on work, and love both team work and doing your own thing

… love to be creative and are passionate about making a positive change in society
… have patience and care about helping other people grow
… are an open-minded person, motivated to work in a team and with people from different religious, cultural and social backgrounds
The European Solidarity Corps is financing the voluntary service. The mission of the ESC is to bring people from different backgrounds together to form a society based on mutual acceptance, solidarity and cohesion.
Important Notice
This year, the ESC programme was delayed because of political decision making processes in Brussels. That means that our organisation will know in August 2021, if this voluntary service will be funded. The chances are very high that it will be funded, but we can sign the contract with you only in the end of August.
Please note that you can only apply if you live in an EU country and do not need a visa.
This call has been closed!