*** Call closed!***
Are you interested in social media management, dance and film? Would you like to go on a 6 months volunteering adventure in Germany? We are looking for one ESC volunteer for the project "Visibility of NGOs" with the hosting organisation Deutsches Tanzfilminsitut in Bremen, Germany!
Dates: As soon as possible until 30.09.2020 (around 6 months)
Location: Bremen, Northern Germany
About the Project
Social media has become one of the most influential sources of information for the young people of today and this ESC projects aims to use this tool to motivate young people to become more involved in their local and regional communities , particularly raising the visibility of NGOs that do valuable work in the cultural sector.
The "Deutsches Tanzfilminstitut" in Bremen was founded in 1988 as a Nonprofit Organisation. It provides an impressive archive of materials that document the work of choreographers, dance companies, theatres, journalists and TV institutions, and furthermore supports the production, restauration and digitization of dance videos and films. The archive hosts around 30.000 video tapes, which can be accessed by everyone interested in anything related to dance. Furthermore, the institute plays an important educational role, organising a variety of events, workshops, presentations and projects on a local and international level, spreading information about and love for dance.
To show all the incredible things that the institute is working on to a bigger audience and increase the visibility of events, projects and information about dance, the institute is now looking for one motivated ESC volunteer!
Tasks of the Volunteer
As the volunteer for Tanzfilm Institute, your tasks would mainly include:
Maintaining the facebook and instagram page of the institute, updating it with relevant content and engaging with followers
Mainting the website of the institute
Taking care of the visibility of the events hosted by the institute, i.e. taking photos, thinking about ways to promote events using local media, platforms etc.
Helping out with the digitization of dance video material, organising the database
Contributing with your own ideas for new events, workshops or actions based on your interests, skills and expertise
The institute is currently already hosting one ESC volunteer and one intern, who are mainly in charge of helping with the filming and cutting of dance video material. Together, you can also collaborate or divide tasks.
Logistics
NaturKultur e.V will be the coordinating organisation in charge of all logistical matters and supporting you in your learning process throughout your ESC.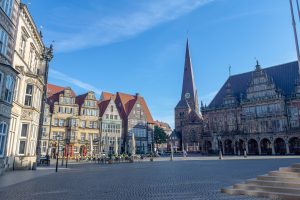 You will be accommodated in a house in Bremen with three other ESC volunteers.
Bremen is a city in North-West Germany (around 500.000 inhabitants), not far from Hamburg and the North Sea coast. Bremen is a vibrant, multi-cultural city with a lot of young people and both a historical centre and newer areas of towns.
As a ESC volunteer, you will receive health insurance, monthly pocket money for food and other expenses (246€ + 150€). Travel costs will be reimbursed depending on the travel distance (normally between 180-360€).
You will be supported by a Coordinator and a Mentor to help you get settled in your work place and the city of Bremen. You will also receive German language lessons together with the other volunteers.
You can apply, if you…
… are a resident of a country within the EU (not Germany)
… between 18-30 years old (on the day you start your ESC)
… have at least A2 level of understanding, speaking and reading German
… are interested in social media management and a creative person
… are interested in dance, video digitization, archives and databases – no prior knowledge is required, but motivation to learn is key!
… are an openminded person, motivated to work in a team and with people from different religious, cultural and social background
… are pro-active, showing iniative and are able to work independently
In short, this ESC project will give you the opportunity to learn and gain experience in a new professional environment, develop your self-awareness and knowledge about social media management, dance, video digitization and archiving. Come and learn more about a new culture and language and find your strengths and interests in an unforgetable, unique 6 months ESC in Bremen!
We have chosen a volunteer and closed the call for applicants. Thank you!