My one year volunteering project in Macedonia comes to an end, and I still don't want to acknowledge this fact. Even though I'm not really sure what I could still get out of this place, it feels kinda difficult to leave it behind, but I know this is also due to the fact that my future still looks very blurry at this point. I got used to my life in Skopje.
The last three months were not fundamentally different from what I experienced before, but they still had their highlights. One of them was for sure the 24th of October, a day we could call "The Almans Sunday". That was around the time when the parents of our other German volunteer Clarissa came to visit her in Macedonia. Together we went to a place called Kokino, an ancient megalithic observatory, where people measured the position of sun and moon and could identify the summer solstice and equinox thousands of years ago. Since it was on the way to Kokino, we also went to Kumanovo, the population-wise second biggest city in Macedonia. Later that day, this time without the parents but with other German volunteers, we went for a midnight wellness experience in a place not far from Skopje called Katlanovo. Here we were searching for a cave with a natural hot spring, and when we finally found it, after taking some wrong paths at the beginning, we were more than happy to enjoy this egg-smelling but 40 °C warm water, especially since it was already quite cold outside. Even though I really enjoy being with international people and that was one of the main reasons why I was doing this EVS project, I have to admit it feels good to have this kind of German day once in a while 😉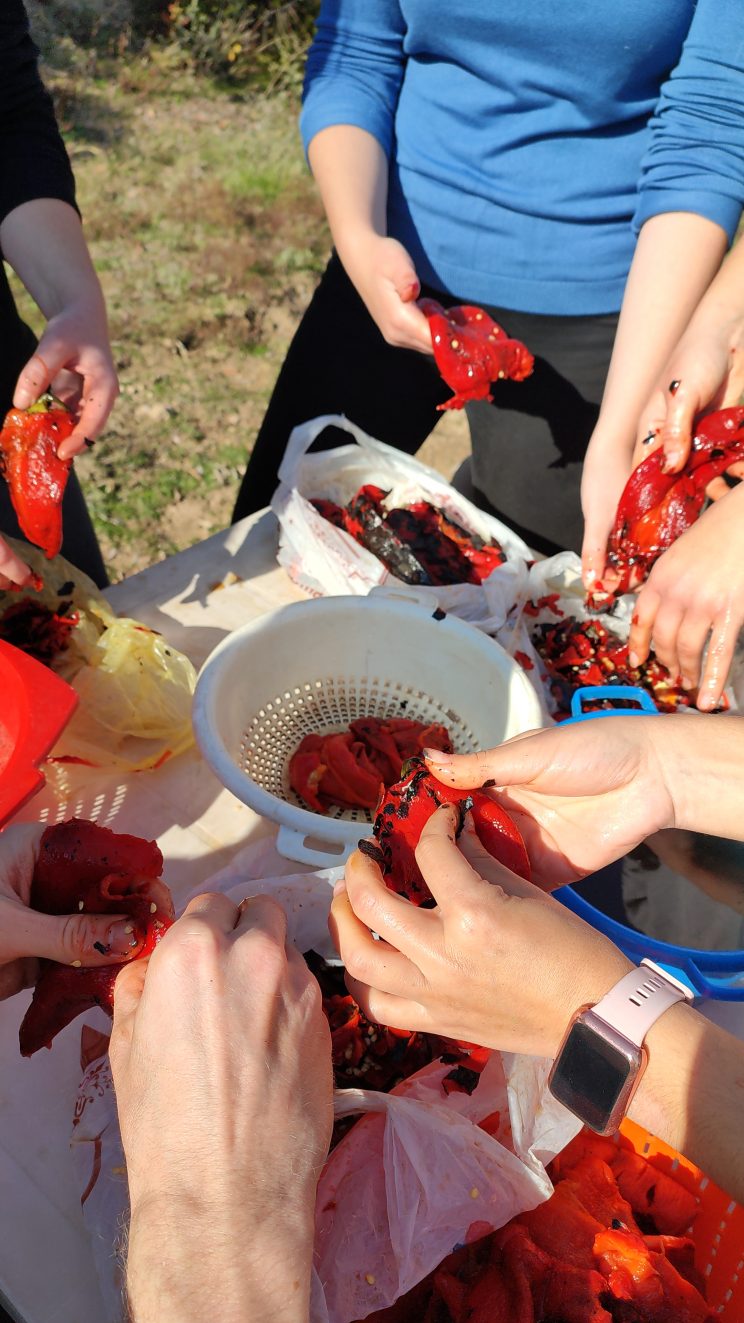 Not even one week from that, there was another highlight. Volunteers Centre Skopje used the opportunity to say goodbye to our short-term volunteer from Finland as well as to celebrate one of our French volunteers birthday by organizing a teambuilding event where we had the chance to experience an important part of Macedonian and Balkan culture and cuisine. We were making our own Ajvar, this delicious paste out of cooked red peppers. We started in the morning and finished after dusk, going through all those procedures of washing, baking, peeling, mincing and eventually cooking the peppers, and it was totally worth it. At the end we got 14 Jars of Ajvar out of 40 kilos of paprika.
My work-related highlight of the previous months was without any doubts that I could be part in a Training course about imagination, improvisation and integration that was organized with help of VCS in Struga, a city at Lake Ohrid. Even though I wasn't participating in the activities but mostly supporting the facilitators as logistical support, it was an insightful experience to see how these kinds of projects are done. Since there was another project simultaneously happening at that time, everybody had the chance to meet over 50 interesting people from more than 8 different countries. I'm a bit sad that only now, during my European Voluntary Service, I found out that those kinds of one-week training courses and youth exchanges exist, otherwise I would have participated in some of those much earlier. I think there lays a lot of potential in activities like that and you can gain a lot from it for your future self.
Chris
Chris is hosted by Volunteers Centre Skopje on the project "VOICES to be heard", financed by JUGEND für Europa and the European Solidarity Corps.