*** Call closed! ***
Would you like to make other people smile? By volunteering at the Freizeitzentrum at Friedehorst, an organisation that provides leisure activities to people with special needs and illnesses, you can become creative and give your best as a volunteer for 12 months!
Dates: 01.10.2020 – 30.09.2021
Location: Bremen, Germany
As part of the project "From Global To Local", we will invite 5 young people to volunteer at 5 different institutions in Bremen. Together, you will be making an active contribution to our city, the people that live in it, and the environment we share together. The European Solidarity Corps wants to bring people from different backgrounds together to form a society based on mutual acceptance, solidarity and cohesion.
This project position will be hosted by Friedehorst.
Your hosting organisation
Your daily voluntary work will be at Friedehorst, an institution that provides competent help, trusting care and individual support to children, young people and adults. Founded in 1947 on a former barracks site in Lesum, the facility now offers a variety of opportunities and is unique in this form in Northern Germany. With around 1,400 employees who take care of around 2,000 people each year, Friedehorst is one of the largest employers in Bremen-Nord. Their activities span from helping children, to adults to older people.
Your responsibilities include:
Working with a variety of people: children, youngsters, adults, people with physical dissabilities in the Freizeitzentrum, a centre of leisure activities for the residents of Friedehorst
Providing small activities for the residents, including own projects on topics that you are interested in
Assisting the employees of Friedehorst in the implementation of events
Other than the work at your hosting organisation, you will organise 2 bigger events for the community of Bremen together with the other 4 volunteers on this project. The topic, framework, audience – everything will be up to your team to decide! An incredible chance to make an impact on something that you are passionate about!

Logistics
NaturKultur e.V will be the coordinating organisation in charge of all logistical matter.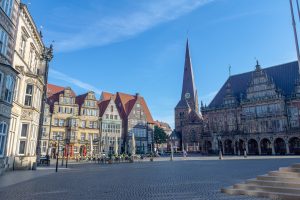 You will be accommodated in a house in Bremen with two other ESC volunteers.
Bremen is a city in North-West Germany (around 500.000 inhabitants), not far from Hamburg and the North Sea coast. Bremen is a vibrant, multi-cultural city with a lot of young people and both a historical centre and newer areas of towns.
As an ESC volunteer, you will receive health insurance, monthly pocket money for food and other expenses (246€ + 150€). Travel costs will be reimbursed depending on the travel distance (normally between 180-360€).
You will be supported by a Coordinator and a Mentor to help you get settled in your work place and the city of Bremen. You will also receive German language lessons of 2 hours per week.
You can apply, if you…
… are a resident of a country within the EU (not Germany)

… between 18-30 years old (on the day you start your ESC
… have at least A2 level of understanding, speaking and reading German
… a high level of motivation, self-development and readiness to work with different age groups
… have patience and are a positive person, so you can work with people with illnesses and disabilities on a daily basis
… are an open-minded person, motivated to work in a team and with people from different religious, cultural and social background
… are pro-active, showing iniative and are able to work independently
In short, this ESC project will give you the opportunity to learn and gain experience in a new professional environment, develop your self-awareness and knowledge about people with different backgrounds, learn more about a new culture and language, find your strengths and interests in an unforgetable, unique 12 months in Bremen!
If you have any further questions, please get in touch with Irma: [email protected]
Sounds like your dream project? Apply below!
Please note that you can only apply if you live in an EU country.
Deadline: 01.06.2020
This call has been closed. Thank you for applying! We will get in touch with you in the middle of June.