*** Call closed! ***
Do you love going to the theatre? Have you always dreamed to peek behind the curtain and see what the backstage life looks like? This is your chance – and you will even contribute and make the magic happen!
Dates: 05.09.2020 – 03.09.2021
Location: Bremen, Germany
As part of the project "From Global To Local", we will invite 5 young people to volunteer at 5 different institutions in Bremen. Together, you will be making an active contribution to our city, the people that live in it, and the environment we share together. The European Solidarity Corps wants to bring people from different backgrounds together to form a society based on mutual acceptance, solidarity and cohesion.
This project position will be hosted by Integration durch Kunst e.V., which is managing Theatre11.

About the hosting organisation
Theater 11 has existed as such since 2014, though the idea dates back to 2009. Back then, while she was studying, Kira Petrov wanted to open a arts school for everyone. In 2011, she opened the NGO called "Integration durch Kunst e.V.". In 2014, Theater 11 started operating as a splinter group of the NGO, thus making Kira's ambition a reality.
Theater 11 is a professional theatre group, which also teaches theatre to kids and young people, according to the standard of the Moscow University of Arts.
Many of the actors and actresses at the theatre have a migration background, which gives the theatre an inclusive theme. It produces plays in German, Russian and sometimes English.
Curious? Check out their Website, Instagram @theater11bremen, Facebook and YouTube!
Your responsibilities include:
Working with young people at the theatre – organising theatre workshops together with the staff
Helping out backstage with technical tasks before, during and after the performances
Sourcing and creating materials, such as costumes and props
Helping with the publicity work of the organisation (social media, video editing etc.)
Other than the work at your hosting organisation, you will organise 2 bigger events for the community of Bremen together with the other 4 volunteers on this project. The topic, framework, audience – everything will be up to your team to decide! An incredible chance to make an impact on something that you are passionate about!

Logistics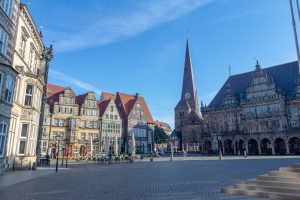 NaturKultur e.V will be the coordinating organisation in charge of all logistical matter.
You will be accommodated in a flat in Bremen with three other ESC volunteers.
Bremen is a city in North-West Germany (around 500.000 inhabitants), not far from Hamburg and the North Sea coast. Bremen is a vibrant, multi-cultural city with a lot of young people and both a historical centre and newer areas of towns.
As an ESC volunteer, you will receive health insurance, monthly pocket money for food and other expenses (246€ + 150€). Travel costs will be reimbursed depending on the travel distance (normally between 180-360€). If you need a visa, the costs can be reimbursed as well and we will support you in the process with the embassy.
You will be supported by a Coordinator and a Mentor to help you get settled in your work place and the city of Bremen. You will also receive German language lessons of 2 hours per week.
You can apply, if you…
… are a resident of a Belarus, Russia, or Ukraine

… between 18-30 years old (on the day you start your ESC)
… can communicate in English (A2-B1) and Russian (B1 or more), and are willing to learn basic German
… are interested in theatre and working with young people – previous experience is not needed, but motivation is key!
… love to be creative and are passionate about making a positive change in society
… are an open-minded person, motivated to work in a team and with people from different religious, cultural and social backgrounds
In short, this project will give you the chance to become a part of a real theatre for 12 months, learn what it's like to organise performances and workshops from zero, learn technical skills and how to work in a team – while living in a new city and culture together with other young Europeans!
If you have any further questions, please get in touch with Irma: [email protected] Please do not send your application via email, as the call has been closed.
Due to overwhelming numbers of applications, we had to unfortunately already close this call! The volunteer has been selected.

(Logo and title image copyright: Theatre11)